Masthead Hose & Supply was founded in 1990 and currently operates from 10 Branch locations with a corporate office in Orange Park, Florida.
Masthead's goal is to provide its customers with the highest quality products, with excellent service at competitive prices. We serve in the following areas:
On Site Repair Service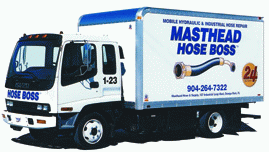 Hose Boss ™ mobile service trucks equipped with capabilities through 2"ID 5000PSI; equipped to provide a range of services from rapid response when your equipment is down, to complete new hose, fitting installation and prototyping; 24 hours a day, 7 days a week. Available at all Florida locations accept Lakeland
Branch Service
Each branch has a full range of products as well as fully trained staff eager to offer support to our customers. Hose assemblies can be made while you wait in all 10 locations.
Original Equipment Manufacturers (OEM)
Offering Hose assembly and accessory kits including proto-type hose installation services.

Re-Distribution
Sale of bulk products and hose assemblies to other distributors and users worldwide.
Export
Specialized products and bi-lingual staff trained to serve the needs of our International customers.